Hire Scaffolding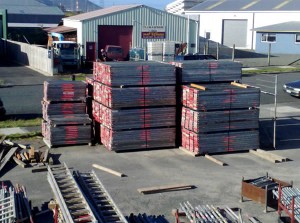 Macsway Scaffolding LTD has been in the scaffolding business for over 40 years and we are the most trusted and experienced scaffold hire company in the Whangarei District and Northland.
At Macsway Scaffolding we hire out both industrial and household scaffolding of various types. We have the best equipment and are responsible for some of the industry's finest innovations. These innovations include Aculog – the Scaffolding Inspection System used throughout NZ, Australia, Asia and Europe. Other innovations include Modular Scaffolding System, Pallet Lifters, Ladder Safety Gates, Clips Bins, Security Engraving, Rotoblasting and Plank Testing Machines among others.
When you hire scaffolding from us you know you are getting the best and most innovative equipment on the market, as well as the safest.  Our record speaks for itself.
No matter how big or small, complicated or challenging your project may be, the engineers and designers at Macsway Scaffolding LTD will assemble a scaffold hire system that both fits your needs and fits your budget.
The equipment you can hire from Macsway Scaffolding LTD also includes:
2m and 3m wooden planks
Alloy mobiles 2.4m long by 1.2m wide by 2m – 4.9m high
Acrow props 1.0m – 2.1 and 1.8m – 3.1
All of our dry hire scaffolding comes from our Ruakaka yard.
So when you need to hire scaffolding for any project, commercial or residential, anywhere in Northland with no hassle and with easy, reliable service at the best possible price – look no further than the historical leader and the leading innovator in the industry – Macsway Scaffolding LTD.
Contact us today for Scaffolding Hire and start working with the best in the industry.