House Scaffolding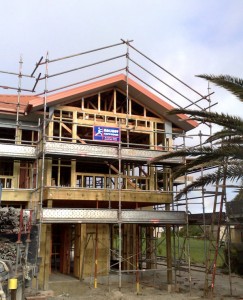 Are you remodelling or building a new home and need to hire scaffolding? If so call us at Macsway Scaffolding LTD.
We service the areas of Whangarei, Wellsford, Waipu, Ruakaka, One Tree Point, Mangawhai, Maungaturoto, Kaiwaka, Tutukaka coast, and Dargaville.
Why are we the best choice for your house scaffolding? Our history and experience sets us apart from all the other scaffolding companies you could hire. We are professionals and have 50 years of experience in the industry as a scaffolding company. Our employees have years of training and experience with every type of scaffolding. Most of our staff has completed the three plus years of training to receive their New Zealand Certificate in Advanced Scaffolding.
Many of the innovations that exist today in the field of scaffolding were developed by Macsway on one of the many prestigious commercial jobs we have done in the Whangarei District. We will bring this spirit of innovation and creativity to your job as well. Our staff will meet with you at your site and discuss your needs. Then our design engineers select the scaffolding plan you will need. Our staff will deliver it and assemble it. When your project is complete we will return and disassemble it as well. No matter how big or how small your residential requirements are Macsway will supply and construct whatever type of scaffolding you need. We love our work and will come to you with a smile.
So why is Macsway Scaffolding LTD the best choice for your home scaffolding job? At Macsway, excellent customer service is just as important to us as it is to you. It is our mission to provide reliable and professional customer service. It is our duty to provide the best possible products, staff and service at the most affordable price. Our history is that we live up to our mission and we keep on doing that everyday.
Get in touch to set up an appointment to talk about your house scaffolding needs.