Macsway

Scaffolding Northland Since 1969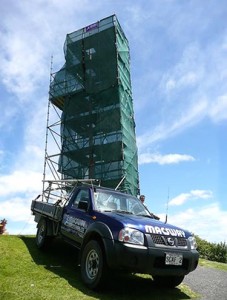 Macsway Scaffolding has been in the Scaffolding and Rigging business for nearly 40 years. It began at the NZ Refinery in the days when scaffolding equipment was manhandled on and off a trailer and hauled around by a Ferguson Tractor. Forklifts, Stillagers, Modular Systems, Alloy Mobiles, Handheld Radios, Computers and Hydraulic Cranes were the technology of the future.
The Ruakaka based business was started in 1969, by the parents of the current Managing Director Ian Macartney, with a team of five.
Ian served his time as a fitter turner machinist with Northland Harbour Board, and then completed his 3rd Marine Engineers qualification before joining Blue Star Ship Management as a seagoing Marine Engineer for five years.
Returning home at 26 years of age he took over the business which had a staff of 60.
Macsways has been fortunate to have excellent staff.
One example was Keith Parsons who was a great asset and a bit of a legend. He was with the company for 26 years before heading to Australia.
Maintaining a balanced workforce is crucial to our service with members such as Kevin 'Dingo' Turner recently completing 25 years service. Max Smith (Scaffold Inspector) 20 years, Kenny Goodwin 18 years and Richard Brown 12 years  The next generation led by Demcey Hutchins (Site Supervisor) and Simon Hay (Operations Manager) is giving good depth"
Training and staff development are vital.  It takes time to build up a strong, balanced and experienced workforce. At any one time we have up to six people working towards the  N.Z. Certificate in Advanced Scaffolding – a process that takes up to three years to complete.
Macsway provide services throughout Northland to clients including Fonterra, Golden Bay Cement, Carter Holt Harvey, Construction Companies and Builders working on Commercial and Domestic Sites.
We have also completed our share of unusual jobs such as The Cape Reinga Lighthouse, Underwater Structures in the Bay of Islands for building private jetties or the platform where Simon Le Bon 'rode on water' in a JAG jeans commercial. We've also constructed Theatre Sets, TV Towers for NBC & ESPN on Golf Courses, and have just recently finished working on the Yellow Pages promotion – building the Treehouse Restaurant 10 metres up a Giant Redwood Tree.www.yellowtreehouse.co.nz
It's not everyone's 'cup of tea' to be scaffolding at 110 metres on the Refinery Chimney or under the wharf above a fast outgoing tide, but Macsway crews enjoy a challenge
The Refinery has been a great place to introduce new ideas and equipment. Aculog – 'The Scaffold Inspection System' for example, was originally developed for use on site in 1995.  It has now gone on to be an established standard throughout New Zealand and is exported to Australia, Europe and Asia.
The list of Macsway innovations also includes the Modular Scaffolding System, Pallet Lifters.Security Engraving, Ladder Safety Gates, Clip Bins, Stillagers for materials handling, Plank Testing Machines, Rotoblasting and Specialised Servicing Machines, and even Mirror Safety Stickers to name a few.
It's about relationships and good communication at all levels. Getting called out at 2am or working in extreme weather conditions during an emergency are all part of our commitment. At the end of the day, it's an exciting industry to work in and there is always something new going on. The challenges never stop."
We value many long standing relationships with our clients, which have often spanned several generations of employees.
Scaffolding Northland, Scaffolding Omaha, Scaffolding Warkworth, Scaffolding Snells Beach, Scaffolding Algies Bay, Scaffolding Mangawhai Head, Scaffolding Mangawhai, Scaffolding Langs, Scaffolding Waipu, Scaffolding Ruakaka, Scaffolding One Tree Point, Scaffolding Whangarei, Scaffolding Dargaville,Scaffolding Maungaturoto, Scaffolding Ngunguru, Scaffolding Tutukaka,